Prenesite izvirno sporočilo za javnost (docx)
Postali smo uradni distributer te spletne platforme, ki izvira iz Češke. IceWarp je alternativa storitvam Microsoft 365 in Google Workspace, vendar je v primerjavi z obema rešitvama bistveno cenejši – cena je za 50 % nižja kot pri Microsoftovih izdelkih in za 69 % nižja kot pri Googlovih izdelkih. Predvsem za srednje velika podjetja in javne ustanove je to lahko zanimiva možnost, ki po ugodni ceni zagotavlja enostavno sodelovanje znotraj ekipe in celotne organizacije.
IceWarp ponuja enake funkcije kot njegovi konkurenti, tj. predvsem delo s skupnimi dokumenti, spletne konference, skupinski klepet, e-pošto na lastni domeni, koledar in še mnogo več. Vse v enem samem oknu spletnega brskalnika. Uporabite lahko tudi mobilno aplikacijo, tako da lahko delate dobesedno od kjerkoli.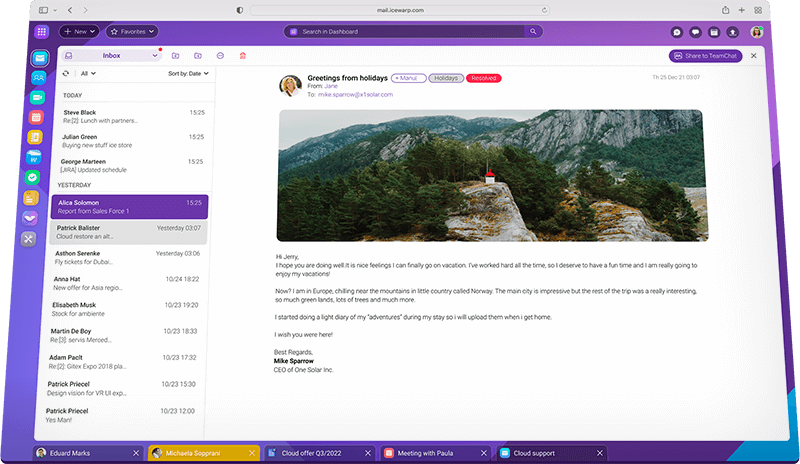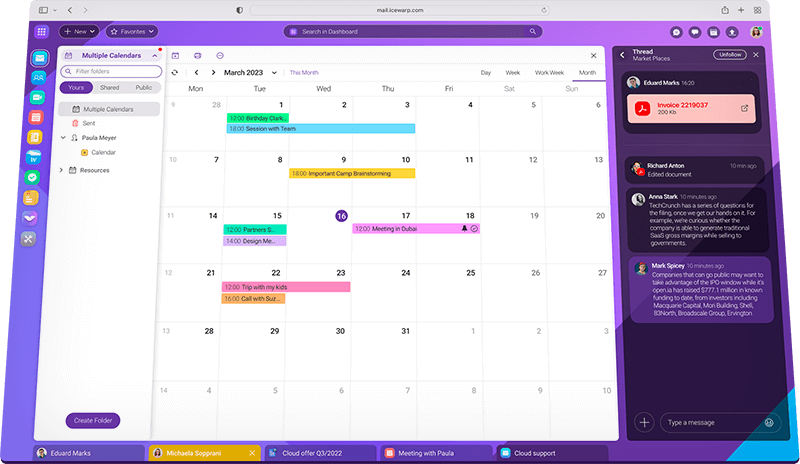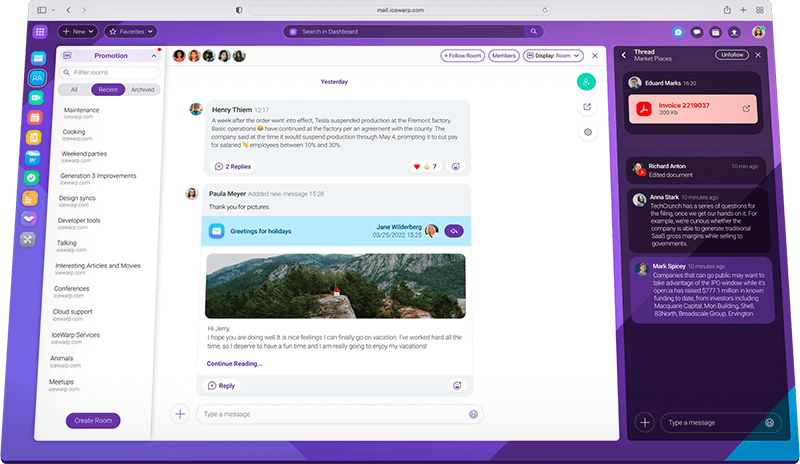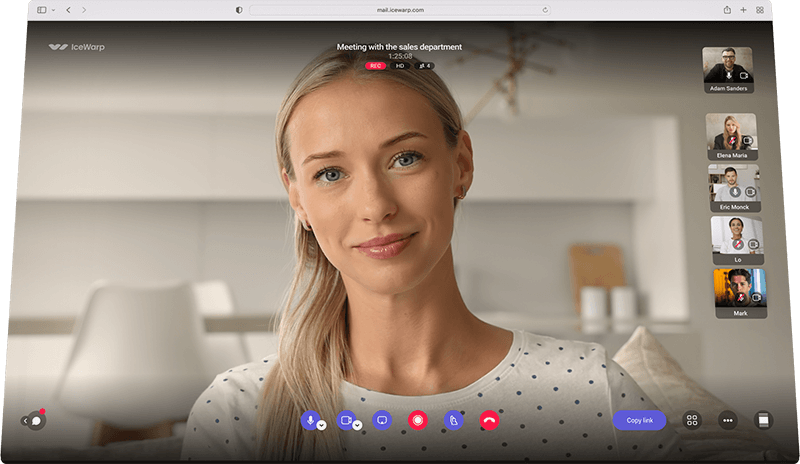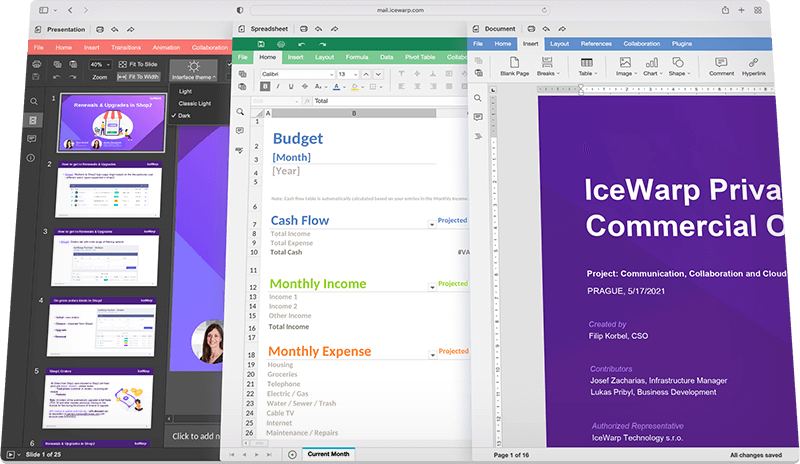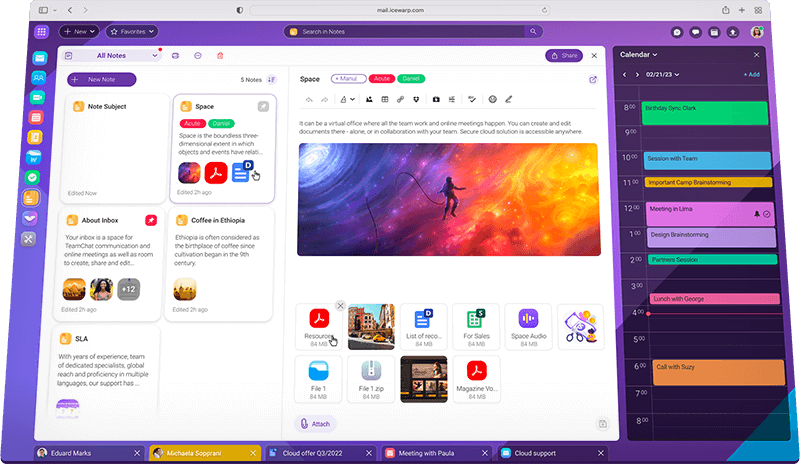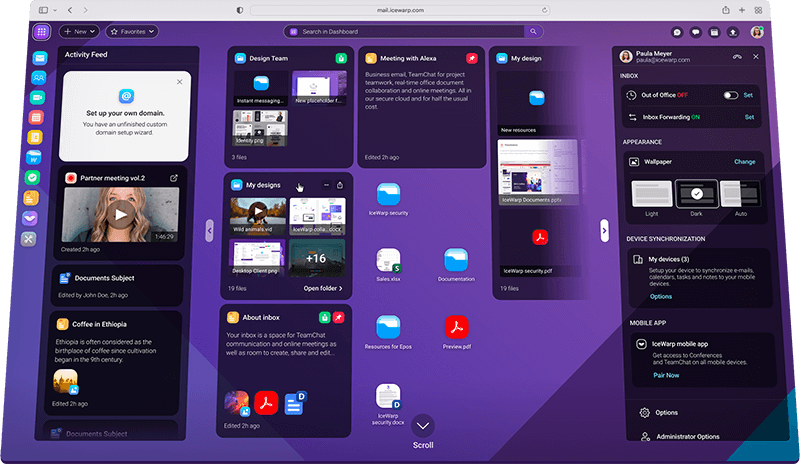 »Partnerstvo z IceWarpom je bil za nas logičen korak. Danes si nekatere naše stranke pogosto ne morejo predstavljati svojega delovnega dne brez pisarniških aplikacij, ne glede na to, ali so nameščene lokalno ali v oblaku. Zato smo iskali izdelek, ki bi ga dodali v našo ponudbo in ki bi najbolje predstavljal naš moto (Same value, better price) in naš glavni cilj – pomagati podjetjem in javnim ustanovam prihraniti pri stroških za programsko opremo, kar jim omogoča, da ta sredstva porabijo za druge potrebne naložbe.«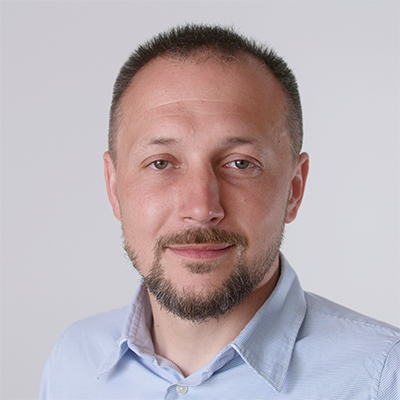 Glavne prednosti IceWarpa niso le ugodnejša cena, temveč tudi enostavnost uporabe, pristop »vse v enem« in izboljšana zaščita uporabniških podatkov – v primerjavi s konkurenti se lahko stranke zanesejo na to, da njihovi podatki niso le zaščiteni, temveč tudi uporabljeni le v okviru shrambe v oblaku brez kakršne koli druge komercialne uporabe.
You can learn more about the IceWarp product tukaj.