www.forscope.si
Exchange Server 2013 Standard
Exchange Server 2013 Standard
angleščina in
8 drugih jezikov
nemščina
francoščina
italijanščina
portugalščina
španščina
ruščina
kitajščina
japonščina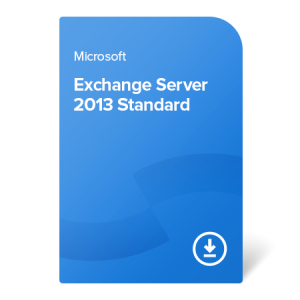 Slika je ilustrativna. Izdelek dostavljamo brez embalaže.
Vrsta programske opreme:
rabljena, trajna
s pravno dokumentacijo, pripravljeno za revizijo
na zalogi
Trenutno ni na zalogi
Dostava po elektronski pošti
Se glede svojega projekta želite posvetovati in dobiti individualno cenovno ponudbo? Kontaktirajte nas.
Individualna ponuda
Pravna dokumentacija, pripravljena za revizijo
Ker je ta izdelek rabljena programska oprema, zakon določa 4 pogoje, ki so potrebni za zakonit prenos lastništva programske opreme.
Zagotavljamo prvo izjavo lastnika, ki potrjuje, da so izpolnjeni vsi pravni pogoji:
Prva država uporabe je bila del EU/EGP ali Švica.
Izdelek je bil v celoti plačan lastniku avtorskih pravic.
Izdelek je trajen, brez časovne omejitve uporabe.
Prvi lastnik izdelka ne uporablja več.
Del pravne dokumentacije je tudi Forscope izjava o neuporabi.
Želite izvedeti več o predloženi dokumentaciji? Oglejte si naš članek.
Vzorec pravne dokumentacije
Prenosljiv (spletna aktivacija)
Za 1 strežnik
Doživljenska uporaba
Vrsta izdelka:
celotna različica; obstaja možnost, da je nadgrajena preko vzdrževalnega sporazuma z imetnikom avtorskih pravic
Vrsta distribucije:
volume (OLP, EA ali podobno); elektronsko potrdilo
Rabljena programska oprema:
da; v skladu z zakonodajo EU dostavimo vse potrebne dokumente
Licenca je veljavna:
trajno
Prenosljivost:
prenosljiva
Način namestitve:
namestitev iz proizvajalčeve namestitvene datoteke (posredujemo povezavo za prenos datoteke)
Arhitektura:
32/64 bit
Jezik:
večjezična programska oprema
Združljiva številka dela
:
312-02303
osnovna podpora: 10.04.2018, razširjena podpora: 11.04.2023
Potrdilo o programski opremi
Dokumentacija v skladu z zakonodajo EU
Potrditev nakupa (račun)
Namestitvena datoteka za prenos
Procesor:
1,4 GHz
Memorija:
512 MB RAM
Prostor na trdem disku:
32 GB
Ločljivost zaslona:
1024×768 ali višja
Priporočamo tudi
Exchange Server 2016 Standard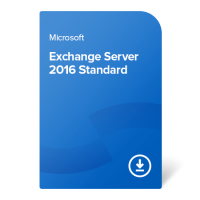 579,99 €
Exchange Server 2013 Enterprise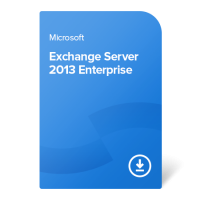 Cena na zahtevo
Exchange Server 2013 Standard
To je popolnoma nov izdelek v našem izboru. Želeli smo vam karseda hitro ponuditi to visoko kakovostno programsko opremo in lahko jo takoj kupite. Opravičujemo se, ker opis izdelka zato še ni dostopen; pravkar delamo na tem!