Ta navodila so namenjena izdelkom Office, kot sta Office 2013 Standard in Office 2013 Professional Plus.
Pred namestitvijo programske opreme se prepričajte, da:
vaš računalnik izpolnjuje sistemske zahteve paketa Office 2013;
je vaš trenutni operacijski sistem posodobljen z najnovejšimi posodobitvami za Windows;
na svojem sistemu nimate nameščenih naslednjih paketov Office (če jih imate, jih prosimo odstranite):
Office Home and Student, Office Home and Business, Office Professional, Microsoft 365 namizne aplikacije, Moj Office.
Vodnik po korakih
Pojdite na onesam.eu in se prijavite s svojo e-pošto in številko naročila.
V meniju na levi strani kliknite svoj Office izdelek in izberite bitno različico:

32-bit – priporočljivo za starejše naprave in sisteme.
64-bit – priporočljivo za optimalno delovanje na novih sistemih.

V meniju pod možnostjo bitne različice izberite jezikovno različico paketa Office.
Prenesite datoteko ISO, jo odprite in zaženite datoteko setup.exe.
Prikaže se lahko majhno okno z vprašanjem, če želite aplikaciji dovoliti spreminjanje naprave – kliknite "Yes".
Nato se za nadaljevanje strinjajte s pogoji storitve in kliknite "Install Now".
Počakajte, da se namestitev konča.
Office je popolnoma nameščen, ko se prikaže to okno: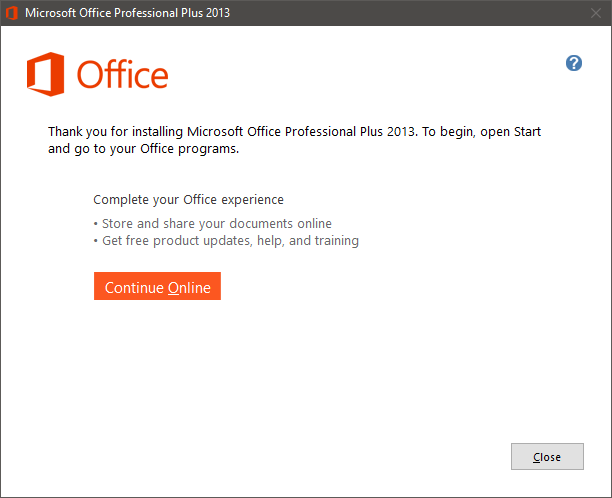 Kliknite "Close" in nadaljujte z aktiviranjem izdelka (obiščite zavihek Aktivacija).
Vodnik po korakih
Ko je namestitev paketa Office 2013 končana, morate izdelek aktivirati, da dokončate postopek.
Zaženite katerikoli program Office 2013, na primer Word.
Odprite prazen dokument.
Pojdite v meni "File" → "Account" in kliknite "Change Product Key" v rumenem polju.


V pojavno okno vnesite ključ izdelka in čez trenutek bo gumb "Install" postal aktiven – kliknite ga in izdelek bo aktiviran ter pripravljen za uporabo.