Ta navodila so namenjena izdelkom Office, kot sta Office LTSC Standard 2021 in Office LTSC Professional Plus 2021.
Pred namestitvijo programske opreme se prepričajte, da:
vaš računalnik izpolnjuje sistemske zahteve paketa Office 2021;
je vaš trenutni operacijski sistem posodobljen z najnovejšimi posodobitvami za Windows;
na svojem sistemu nimate nameščenih naslednjih paketov Office (če jih imate, jih prosimo odstranite):
Office Home and Student, Office Home and Business, Office Professional, Microsoft 365 namizne aplikacije, Moj Office.
Vodnik po korakih
Pojdite na onesam.eu in se prijavite s svojo e-pošto in številko naročila.
Prenesite in zaženite našo aplikacijo Office 2021 Volume Installer.exe.
Morda se prikaže naslednje opozorilo:


To sporočilo se pojavi, ker je aplikacija povsem nova in še ni pridobila statusa zaupanja v varnostnem sistemu Windows. Kliknite na "More info" in izberite "Run anyway".
Ko se odpre namestitveni program Office 2021 Volume Installer, je videti tako:


Na seznamu "Product" izberite izdelek, ki ste ga kupili pri nas.
V polju "Components" lahko odkljukate programe Office, ki jih ne nameravate uporabljati.
Na seznamu "Platform" izberite vrsto arhitekture za svoj izdelek: Izberite 32-bit ali 64-bit.
Običajno je najbolje izbrati 64-bitno različico – tako bo vaš izdelek bolje deloval na sodobnih operacijskih sistemih in napravah.
Na seznamu "Language" izberite jezik, v katerem želite, da je izdelek prikazan.

Ko končate s prilagajanjem namestitve, kliknite "Download & Install".
Sedaj samo počakajte, da bo vaš izdelek nameščen. Zelena vrstica napredka v namestitvenem programu se bo večkrat napolnila in pojavila se bodo nekatera dodatna okna – to je normalno in je del postopka.
Namestitvenega programa in njegovih dodatnih oken ne zapirajte, sicer bo namestitev prekinjena!
Office je popolnoma nameščen, ko se prikaže to okno: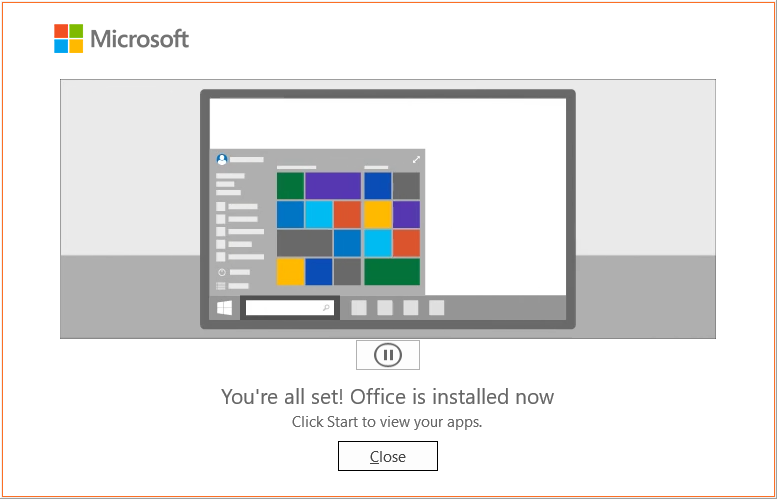 Sedaj lahko zaprete namestitveni program in nadaljujete z aktiviranjem izdelka (za navodila pojdite na zavihek Aktivacija).
Vodnik po korakih
Ko je namestitev paketa Office 2021 končana, morate izdelek aktivirati, da dokončate postopek.
Zaženite katerikoli program Office 2021, na primer Word.
Odprite prazen dokument.
Pojdite v meni "File" → "Account" in kliknite "Change Product Key" v rumenem polju.


V pojavno okno vnesite ključ izdelka in čez trenutek se bo pojavil gumb "Activate Office" – kliknite ga in izdelek bo aktiviran ter pripravljen za uporabo.