Windows Server 2016 RDS User CAL
Windows Server 2016 RDS User CAL
%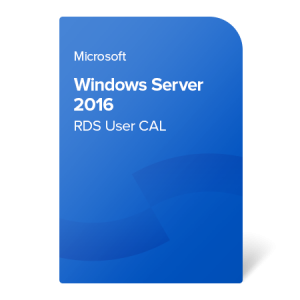 Slika je ilustrativna. Izdelek dostavljamo brez embalaže.
Vrsta licence:
elektronsko potrdilo
Izberite različico izdelka:
na zalogi Ni na zalogi
Dostava:
Na zahtevo V 3 delovnih dneh V roku 1-2 delovnih dni V 15 minutah

Brezplačna dostava
166,00 €
79,99 €
65,57 €

brez DDV (22 %)
100% kupcev priporoča nakup na forscope.si
Licenčno potrdilo
Dokumentacija v skladu z zakonodajo EU (Izjava prodajalca)
Potrditev nakupa (račun)
Vrsta licence:
digitalno potrdilo
Vrsta distribucije:
volume (OLP, EA ali podobno); elektronsko potrdilo
Licenca je veljavna:
trajno
Prenosljivost:
prenosljiva
Način namestitve:
potreben je ID strežniške licence (več informacij spodaj)
Priporočamo tudi
Windows Server 2016 RDS User CAL
To je popolnoma nov izdelek v našem izboru. Želeli smo vam karseda hitro ponuditi to visoko kakovostno programsko opremo in lahko jo takoj kupite. Opravičujemo se, ker opis izdelka zato še ni dostopen; pravkar delamo na tem!
POMEMBNO: Za dokončanje postopka aktivacije nam boste morali posredovati ID strežniške licence.

Za več informacij se obrnite na našo podporo strankam.