www.forscope.si
Office 2013 Standard
slovenščina in
več kot 10 drugih jezikov
angleščina
nemščina
francoščina
italijanščina
portugalščina
španščina
ruščina
hrvaščina
madžarščina
romunščina
+ veliko ostalih jezikov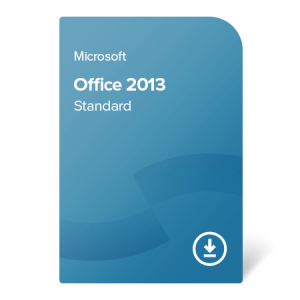 Slika je ilustrativna. Izdelek dostavljamo brez embalaže.
Vrsta izdelka:
elektronsko potrdilo
na zalogi
dostava v 5-ih minutah
Trenutno ni na zalogi
Dostava po elektronski pošti
Kupci so izbrali tudi
Elektronsko potrdilo
Prenosljiv (spletna aktivacija)
Za 1 napravo
Vsebina: Word, Excel, PowerPoint, OneNote, Outlook in Publisher
Doživljenska uporaba
Združljiv z operacijskim sistemom Windows
Združljiv s storitvami oddaljenega namizja (RDS)
Vrsta izdelka:
celotna različica; obstaja možnost, da je nadgrajena preko vzdrževalnega sporazuma z imetnikom avtorskih pravic
Vrsta distribucije:
volume (OLP, EA ali podobno); elektronsko potrdilo
Rabljena programska oprema:
da; v skladu z zakonodajo EU dostavimo vse potrebne dokumente
Licenca je veljavna:
trajno
Prenosljivost:
prenosljiva
Način namestitve:
namestitev iz proizvajalčeve namestitvene datoteke (posredujemo povezavo za prenos datoteke)
Arhitektura:
32/64 bit
Združljivost z OS-om:
Windows
Jezik:
večjezična programska oprema
Združljivost MS Office-a:
MS Office Standard, MS Office Pro Plus in samostojne aplikacije MS Office
Združljiva številka dela
:
021-10257
osnovna podpora: 10.04.2018, razširjena podpora: 11.04.2023
Potrdilo o programski opremi
Dokumentacija v skladu z zakonodajo EU (Izjava prodajalca)
Potrditev nakupa (račun)
Namestitvena datoteka za prenos
Procesor:
1 GHz
Memorija:
1 GB RAM (32-bit); 2 GB RAM (64-bit)
Prostor na trdem disku:
3 GB
Operacijski sistem:
Windows 7, 8, 8.1, 10; Windows Server 2008 R2, 2012, 2012 R2, 2016
Grafika:
grafična kartica DirectX 10
Priporočamo tudi
Office 2016 Standard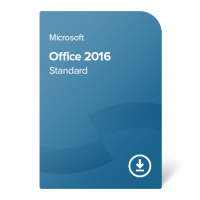 119,99 €
Office 2010 Standard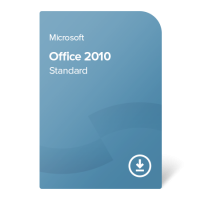 69,99 €
Office 2013 Standard
Ustvarite svoj Microsoftov račun in urejajte svoje dokumente zasebno, kljub temu da uporabljate skupni računalnik! Poleg tega, s spletnim oblakom OneDrive lahko varno naložite in delite svoje datoteke.

Office 2013 Standard vključuje programe Word, Excel, PowerPoint, OneNote, Outlook in Publisher.
Torej, kaj je novega?

Word 2013
Word na svoji orodni vrstici ima nov zavihek Oblikovanje, ki olajša uporabo različnih oblikovalnih funkcij in pomaga razumeti, kako med seboj sodelujejo.

Excel 2013
Excel ima zdaj več intuitivnih funkcij, kot na primer QuickAnalysis (Hitra Analiza). Ta funkcija vam omogoča najti najbolj primerno orodje za urejanje vaših podatkov in pogledati predogled sprememb, preden jih shranite.

PowerPoint 2013
PowerPoint vam predstavlja različne izboljšave, ki vam dajejo možnost prilagoditi svojo predstavitev še več kot nekoč. Vrhunsko se boste zabavljali z dokumenti v PowerPoint na napravah na dotik, ker zdaj lahko pomaknete, tapnete, povečate in pomanjšate svojo cesto skozi predstavitev.

OneNote 2013
OneNote vam omogoča vstavljanje novih medijev, kot na primer zajem zaslona, na še hitrejši in bolj udoben način.

Outlook 2013
Outlook poskrbi, da je vaše poslovanje obsežnejše, hkrati tudi časovno učinkovito. Zdaj lahko načrtujete spletna srečanja, vključite vremensko napoved v svoje načrte in ogledate koledarje vaših sodelavcev, da najdete ustrezni čas za komunikacijo.

Publisher 2013
Publisher je urejevalnik besedil in grafike, ki lahko ustvarja vizitke, obrazce, predstavitve in spletne strani. Vse publikacije se ustvarja na osnovi besedilnih polj, v katera se vstavlja slike in besedilo.
Pomembno: Na eni napravi ni mogoče hkrati namestiti sklopa licenc in pa maloprodajnih različic programske opreme. To na primer pomeni, da na istem računalniku ne morete imeti hkrati nameščenih zbirk Microsoft Office Home and Business (Retail licenca) in Project Professional (Volume licenca).